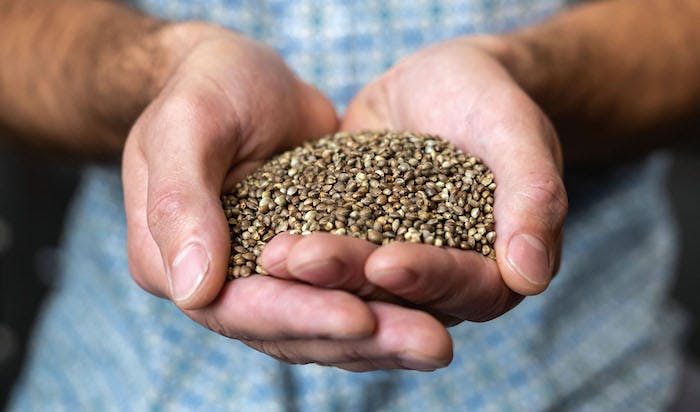 Success starts with great seed
Buying seed from a trusted supplier is the first and most important decision a grower will make farming industrial hemp. 
One of the most important variables of a successful CBD hemp growing season is having the right genetic inputs out of the gate. Phylos' AutoCBD autoflower varietal was produced by a long-time Oregon plant breeder with decades of experience in vegetable breeding. In its 3rd generation of production, AutoCBD exhibits high levels of feminization (99.98%+), plant uniformity, and a predictable grow cycle.
And continues with a high level of support 
The benefits of choosing high-quality seed from a trustworthy provider doesn't stop at the point of sale. Phylos understands the pain points that come with introducing a new crop and has a team of agronomists with over 40 years of combined experience to support with recommendations, best practices, and troubleshooting. Our relationships with growers are meant to be long term, and that's why Phylos dedicates its product development team to the constant evaluation and analysis of seeds and the hemp markets they are sold into.
_____
What is the impact of poor or unverified seeds?
Much of the seed on the market today has not been produced using standard seed industry best practices by professional, trustworthy seed companies. This means the seed might be produced without proper isolation to avoid foreign pollen contamination, could have inaccurate feminization rates, may have been stored improperly, or might produce variable plant material due to unstable genetic lines. Poor agronomic practices performed during seed production can also result in uneven yields for farmers which have been extremely costly. 
What does it mean to have quality-assured seeds from a trusted supplier?
Seed innovations through intellectual property protection
Intellectual property rights such as Plant Variety Protection and patents enable breeders to benefit from the years of work it takes to create consistent, high performing seed. This encourages investment in research and development and leads to continued variety improvement through rapid trait advancements year after year. The plant breeders, data scientists, geneticists, and agronomists at Phylos and our partner companies work year round to optimize hemp varieties for more profitable harvests.
Our IP protected AutoCBD hemp seeds have been inspected and verified through stringent quality standards. When you work with Phylos, you'll gain access to seed product lines bred to face the challenges of agriculture today and in the future.
Verifying our seed production meets our quality standards
At Phylos, we ensure the seeds we intake from production fields meet the same high quality standards every time before we ship them to our customers. We rigorously test and analyze thousands of plants to identify the germination rate, feminization rate, and genetic stability. There are no other seed companies in the US hemp market providing this level of quality control.
Do you expect agronomic support from your seed supplier? You should. 
Gone should be the days of customers purchasing hemp seeds from inexperienced, untrustworthy, and predatory seed vendors through a closed process only to be inaccessible once the grower has questions about planting, cultivation, or harvest. With only 50-60% of planted hemp acres successfully harvested in 2019*, growers in 2020 should identify partners who will support them through growing and harvest and are committed to the long-term success of farmers.

How can expert agronomic support benefit your growers?
When growers and distributors work with Phylos, they are working with a deep bench of technical experts including field agronomists, plant breeders, data scientists, manufacturing, and our quality assurance team, all driven by a common purpose — helping hemp farmers to have the most successful growing season to date.
Contact us to learn more about our commitment to quality, supporting growers, and long term partnerships.
_____
*Vote Hemp: 2019 State Licensed Hemp Acreage