This case study is the first in our series covering seed-based production systems in various sizes and environments. Read our second case study exploring how Montana-based Streamline Farms successfully pivoted from growing tomatoes to cannabis with a limited budget and small footprint in "The Impact of Modern Seed Genetics in Commercial Cannabis."
...
Unlocking the Cost Saving Potential of Production-Ready Seed™
Operating expenses, which impact nearly every commercial cannabis cultivator, can significantly influence a grower's measure of success and often scales in relation to plant count.
Researchers are rapidly improving methods to increase plant yield, efficiency, and vigor — while reducing costs. This means that growers must remain flexible to seasonal changes in their production systems or risk losing market share.
A byproduct of the rapid maturation and declining prices of the cannabis cultivation industry comes in the form of constant decision requirements by cultivators regarding updating best practices, integrating and optimizing existing production systems, and reducing operational expenses.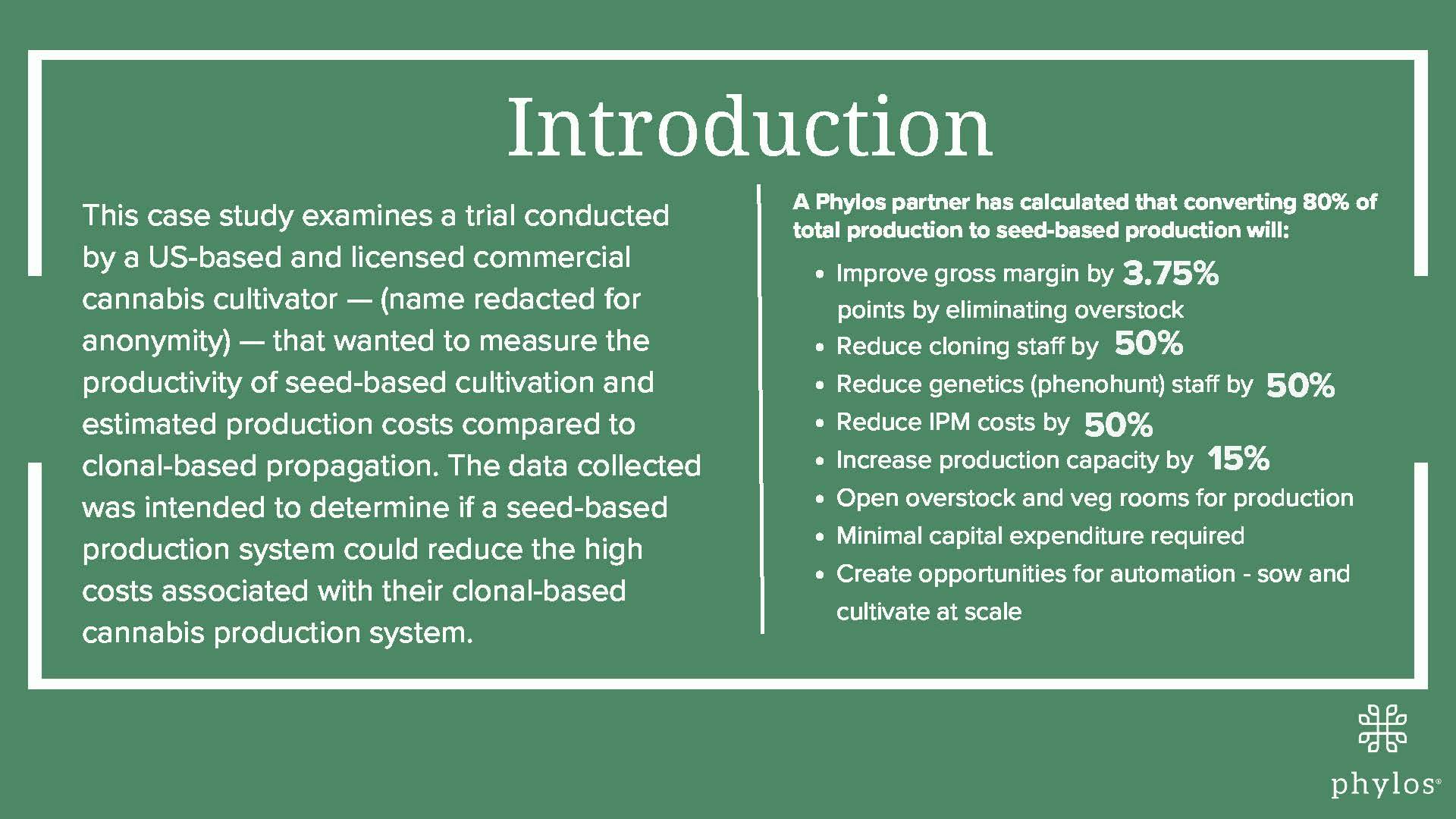 This case study examines a trial conducted by a US-based and licensed commercial cannabis cultivator — (name redacted for anonymity) — that wanted to measure the productivity of seed-based cultivation and estimated production costs compared to clonal-based propagation. The data collected was intended to determine if a seed-based production system could reduce the high costs associated with their clonal-based cannabis production system.
What is Phylos Production-Ready Seed?
Phylos Production-Ready Seed gives cultivators the ability to scale production quickly and efficiently by growing uniform, high performing cultivars straight from seed. These seeds can be grown in your production space immediately, with no need to pheno-hunt or clone. Every plant that grows from Phylos Production-Ready Seed will look, smell, grow, and perform uniformly to each other — just like a clone. Ultimately, you get more vigorous, pest-resistant plants without the constant threat of HLVd and other viruses taking down your labor-hungry mother room.
Years of inbreeding, high selection intensity, and genetic markers guide our traditional breeding methodologies. They are completely feminized and are generally lower touch than clonal varieties. With quick-finishing, 7-8 week flower cycles on photosensitive varieties as well as autoflower options that are ready to harvest 65-75 days after sow, your timelines can be met with ease and can effortlessly be slotted in with other clonal varieties.
Simply put — Phylos Production-Ready Seed™ is like having a virus-free mother room in a single packet of seeds.
For more information or to shop Phylos Production-Ready Seeds, visit our seed shop.