COAs give you critical insights into your crop. You can obtain a COA anytime throughout the growing season after flower initiation. To obtain a compliant pre-harvest COA, we recommend that you start testing when your plants begin to flower. Continue to test at least weekly to monitor the increasing cannabinoid content of your crop. 
See Part 1 of this series for our autoflower- and photosensitive-specific recommendations.
Here's an overview of who does the testing and when.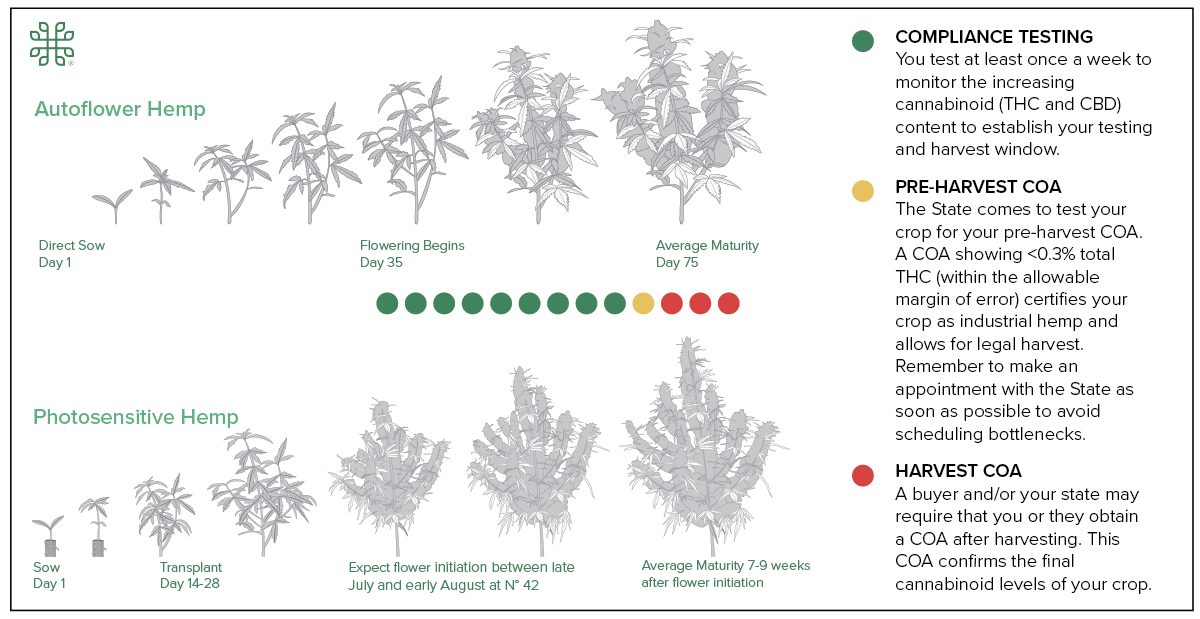 COMPLIANCE TESTING
You test at least once a week to monitor the increasing cannabinoid (THC and CBD) content to establish your testing and harvest window.
PRE-HARVEST COA
The State comes to test your crop for your pre-harvest COA. A COA showing <0.3% total THC (within the allowable margin of error) certifies your crop as industrial hemp and allows for legal harvest. Remember to make an appointment with the State as soon as possible to avoid scheduling bottlenecks.
HARVEST COA
A buyer and/or your state may require that you or they obtain a COA after harvesting. This COA confirms the final cannabinoid levels of your crop.
Understanding cannabinoid levels
At Phylos, we perform time course studies to monitor the increasing levels of cannabinoids throughout the growing cycle. We use different sampling methodologies, which is important because sampling methods can vary from state to state.

Once you know your state's sampling method—in other words, which part of the plant they sample—you can hone in on the information that's most relevant to your production.
3 key things to keep in mind
Book your pre-harvest COA as you approach 0.3% total THC.
Remember state sampling methods vary and will result in different cannabinoid levels. As you see in the above image, for states only testing flower, results will likely have increased THC content.
Be aware that THC and CBD levels continue to rise after your pre-harvest COA. Even though the levels will be higher at harvest, this does not make your crop "hot". As long as you have a compliant pre-harvest COA and have harvested within the state-recommended window, you're good to go.

How to interpret your COA
Laboratory & testing details
Phylos submitted a pre-harvest sample of AutoCBD™ Alpha Nebula on December 1, 2020, to Columbia Laboratories. Upon analysis, the report was generated on December 7, 2020.

Testing results
The total THC is less than 0.3% which identifies the crop as industrial hemp. This means it can be legally harvested. The crop was harvested within the state-recommended harvest window.

Conditions that can influence testing results
Many factors can influence your testing results including:
When and where the plants are grown
Crop culture including soil moisture and fertility
Seasonal weather and temperature
Harvest timing based on maturity of plants and trichome development
Sample composition (e.g. flower only vs. biomass)
Field or greenhouse cultivation
Drying, curing, and storage methods
Lab equipment, personnel, and testing methods
We are here to help
Our Technical Development and Customer Success teams can help you fine-tune your compliance efforts or your cultivation plans. Contact us online anytime or call us at 503-206-6599 EXT 1 Monday-Friday, 8am-5pm PST.
The information provided on this website does not, and is not intended to, constitute legal advice; instead, all information, content, and materials available on this site are for general informational purposes only.  Information on this website may not constitute the most up-to-date legal or other information.